Electricity for Costa Rica
Renewable, solidary and of quality
The country's companies promote and strengthen an electric model based on sustainability, equal access and national security, taking advantage of natural resources in complete harmony with the environment.
This group of public companies are: Instituto Costarricense de Electricidad (ICE); Compañía Nacional de Fuerza y Luz (CNFL); Public Services Company of Heredia (ESPH); Carthage Public Services Administrative Board (JASEC); and the rural electrification cooperatives: COOPESANTOS, COOPEALFARORUIZ, COOPEGUANACASTE and COOPELESCA.
This allows Costa Rica to have coverage of 99,43% that places it as the second with the highest penetration in Latin America.
Material to download:
| | |
| --- | --- |
| Description | Download |
| Newsletter: Renewable, solidarity and quality | Click here |
| Bulletin: C - Neutrality | Click here |
| Bulletin: What is an electrical matrix? | Click here |
Educational workshops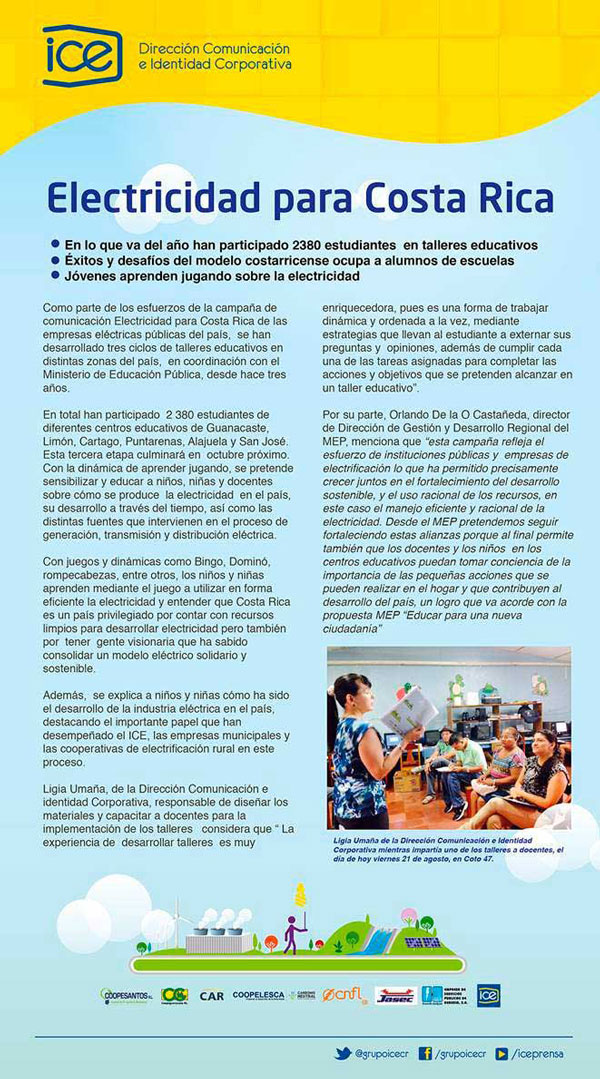 2380 students have participated in educational workshops so far this year
Successes and Challenges of the Costa Rican Model Occupy School Students
Young people learn by playing on electricity
As part of the efforts of the Electricity for Costa Rica communication campaign of the country's public electricity companies, three cycles of educational workshops have been developed in different areas of the country, in coordination with the Ministry of Public Education, for three years.
In total, 2 380 students from different schools in Guanacaste, Limón, Cartago, Puntarenas, Alajuela and San José have participated. This third stage will end next October. With the dynamics of learning while playing, the aim is to sensitize and educate children and teachers about how electricity is produced in the country, its development over time, as well as the different sources involved in the process of generation, transmission and electrical distribution.
With games and dynamics such as Bingo, Domino, puzzles, among others, children learn through the game to use electricity efficiently and understand that Costa Rica is a privileged country for having clean resources to develop electricity but also for having Visionary people who have known how to consolidate a solidary and sustainable electric model.
In addition, it explains to children how the development of the electricity industry in the country has been, highlighting the important role played by ICE, municipal companies and rural electrification cooperatives in this process.
Ligia Umaña, from the Communication and Corporate Identity Division, responsible for designing the materials and training teachers for the implementation of the workshops, considers that "The experience of developing workshops is very enriching, since it is a dynamic and orderly way of working at the same time , through strategies that lead the student to express their questions and opinions, in addition to fulfilling each of the tasks assigned to complete the actions and objectives that are intended to be achieved in an educational workshop. "
For his part, Orlando De la O Castañeda, director of Management and Regional Development of the MEP, mentions that "this campaign reflects the efforts of public institutions and electrification companies which has allowed us to grow together in the strengthening of sustainable development, and the rational use of resources, in this case the efficient and rational management of electricity. From the MEP we intend to continue strengthening these partnerships because in the end it also allows teachers and children in schools to become aware of the importance of small actions that can be carried out in the home and that contribute to the development of the country, an achievement which is consistent with the MEP proposal "Educate for a new citizenship"