Energy Quality
- This action allows to improve the quality of the electric service.
- Monitoring does not affect the customer's service or billing.
Verification Program of the Electric Supply
This program responds to compliance with the AR-NT-SUCAL regulations
Energy Quality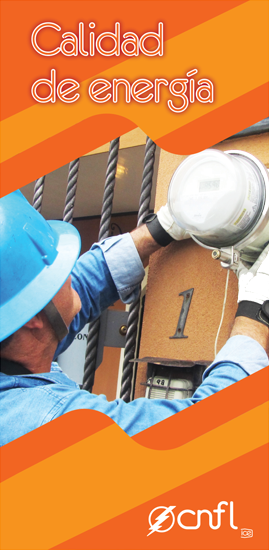 Dear Customer
In order to ensure the quality of the energy provided by the Compañía Nacional de Fuerza y Luz To its clients, the selection of a group of meters is carried out annually, after programming, to develop the electricity supply verification program.
For this purpose, an energy quality analyzer unit is installed in each meter for a period of 7 days. After this period, it can be confirmed if the service provided is within the parameters established in the ARESEP technical quality standard (AR-NT-SUCAL).
In case the results are not compliant, the CNFL will make the corresponding improvements in the network and possibly install the equipment again in order to confirm the quality of the energy after the improvement.
The installation of the equipment does not represent any affectation in the billing of the client or in its electrical service, only a disconnection of a few minutes during the installation and removal of the equipment due to safety issues.
La Compañía Nacional de Fuerza y Luz It has the team and technical personnel trained and properly identified to carry out the work.
Any query can be communicated to:
Phone: 2295-1060 or Email: This e-mail address is being protected from spambots. You need JavaScript enabled to view it.
Control Area Energy Quality
CNFL